Reviews on The World's a Stage with Bohuslän Big Band. (Music, Lyrics and arrangements by Lina Nyberg) listen HERE <-
Magasin Opulens:
Lina Nyberg är inte traditionsbunden i en fundamentalistisk mening, hon är istället nyskapande, självständig och framför allt kreativ och lekfull. Bohuslän Big Band bidrar med särskild energi, intensitet och värme. Allt är synnerligen inspirerande att lyssna på.
Bo Bjelvhammar, Magasin Opulens https://www.opulens.se/musik/kreativ-och-lekfull-jazz/
JAZZ JAPAN:
The suite, which is inspired by Broadway musicals and has a name derived from Shakespeare, is performed by the country's best big band.  In addition to the charm of the singing ability that contains theatrical elements, which is her specialty, a good space is allotted to instrumental parts.  You can enjoy both the solos and the ensemble.
Hiroki Sugita, JAZZ JAPAN
Salt-peanuts.eu:
The title of the album refers, obviously, to William Shakespeare famous saying: «All the world's a stage, and all men and women but players». And this suite attempts to encompass all life experiences, happiness and disasters, births and deaths, and everything in between. Nyberg is a skilled composer who is well-versed in the legacy of jazz big bands, has studied orchestral conduction, and mastered the rich spectrum of colors and sounds of the Bohuslän Big Band. She arranged and conducted the suite, which was recorded by the same sound engineer who recorded Close, Åke Linton, live at Vara Concert Hall. But most important is her gift of conveying deep, and sometimes even troubled emotional states of mind in an elegant and engaging way, without sliding into sentimentality but with a warm and insightful delivery. Eyal Hareuveni, Salt-peanuts.eu
https://salt-peanuts.eu/record/lina-nyberg-bohuslan-big-band/
Dagens Nyheter:
Musiken låter gediget genomarbetad men också sinnlig, ibland direkt humoristisk och alltid kreativt tillåtande. Som lyssnare liksom hör man hennes blick tillbaka på sin karriär och sitt vuxna liv, men också ut över världen i form av en enda stor scen.
Skivtiteln är saxad från Shakespeare och antyder också hur Nyberg undersöker och uttolkar vad som sker i musiken och runt hennes person. Det blir dramatiskt eftersom i det finner hon kanske sidor sig själv. Och det blir underhållande, för hon ser själv det underhållande. Det slår mig gång på gång, att jag hör Nyberg på det sättet. Genom henne snarare än bara lyssnande utifrån.
Johannes Cornell, Dagens Nyheter
https://www.dn.se/kultur/lina-nyberg-bade-beharskar-och-leker-med-favoriterna/
Nettavisen Norge: 
Og hvilken komponist Lina Nyberg også viser seg å være. Hun har skapt original storbandmusikk som kler hennes visjoner på et strålende vis og som også kler hennes stemme og uttrykk like bra. Når så BBB igjen forteller oss at de er et profesjonelt storband av meget høy internasjonal klasse, så har dette blitt en 30-års markering av ypperste merke… Omgitt av noen av Sveriges aller fremste jazzister viser Nyberg oss nok en gang hvilken eminent formidler og vokalist hun er.
Tom Hammerø, Nettavisen.no
https://www.nettavisen.no/plateanmeldelse/musikk/jazz/den-unike-stemma/r/5-95-1024609
Magasinet Stereo, Japan: 
The 7 new songs are dedicated to various role models such as Norma Winstone and Carmen McRae. With the prestigious big band, you can enjoy the soft and relaxed voice while being wrapped in a high quality and colorful big band with saxophones, trombones and piano. Just as on her debut album, the work of the sound engineer Åke Linton is wonderful.
Magasinet Stereo, Japan: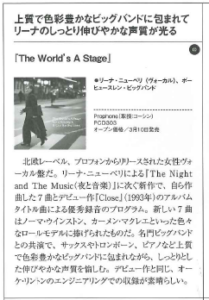 Sydsvenskan:
Sångerskan har arrangerat allt och arbetat hårt, hennes vana trogen är vissa spår absolut fullpackade med teman, effekter och rytmiska finesser. Lina Nyberg utnyttjar de många klangmöjligheterna maximalt, hon är skicklig på både att spela ut sektionerna mot varandra och att föra ihop dem, vilket ger musiken ett intensivt, stundtals kokande, inre liv.
Alexander Agrell, Sydsvenskan https://www.sydsvenskan.se/2023-03-10/lina-nyberg-later-storbandets-inre-koka
Lina Nyberg Band "Anniverse" was released by Hoob records April 25th 2022.
Read more and buy it HERE or
listen- HERE.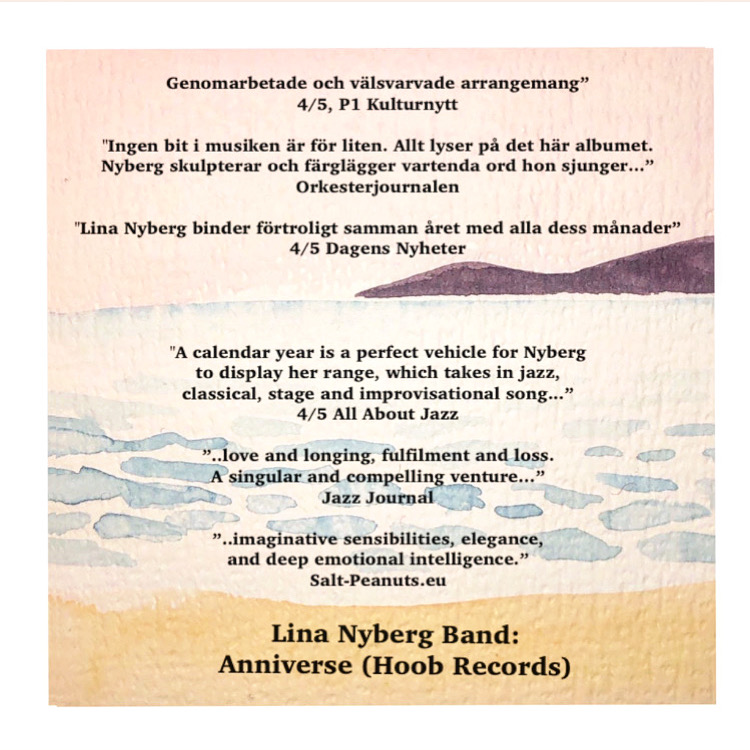 Valonkuvia blog:
"Nybergin yhtye on soittanut yhdessä lähes viisitoista vuotta, mikä kuuluu yhtyeen koko "aineenvaihdunnassa", siis siinä saumattoman dynaamisessa vuorovaikutuksessa, jolla soittajat muovaavat vaihtelevat sävellykset jänteväksi kokonaisuudeksi. Lina Nyberg itse onnistuu olemaan yhtäaikaa sekä yhtyeen jäsen eli muusikko muiden joukossa sekä yhtyettä johtava omaperäinen ääni."Anniverse" kuuluu vuoden tähän mennessä parhaimpien julkaisujen joukkoon, siis myös Valon kuvia -blogin Vuoden valinnat 2022 -listalle."
All About Jazz:
"The months pass with a gentle beauty. "June" and "Julian" are both devastatingly exquisite and a prelude to the collision of land and sea of "August." The highlight here might be David Stackenäs' reworking and arrangement of the 1978 Earth, Wind, & Fire pop hit "September." The ensemble takes it at an unhurried pace that reinterprets E,W&F's "Ba-du-da" in a fresh new light. "The October Storm" plays off of Broadway, "November" delivers divine wordless scat, and "Dear December" ends the year in preparation for the cold and dark once more."
Jazz Journal:
"If this is epitomised by the radical treatment of April In Paris, which includes electronic "noises off" and an "art song" treatment of the lyric, it is equally evident in the considered touches of distilled tonal colour and fresh intervallic dynamics which complement Nyberg's musings, not so much on seasonal variations of time and the weather, but rather, love and longing, fulfilment and loss. A singular and compelling venture, epitomised by the bittersweet Julian."
Salt-Peanuts:
"Swedish national treasure, vocalist-composer-songwriter-bandleader Lina Nyberg celebrates her 22nd album with her working band for the last fourteen years – pianist Cecilia Persson, guitarist David Stackenäs, bassist Josef Kallerdahl and drummer Peter Danemo. The ever-creative Nyberg already employed her band for the acclaimed Terrestrial trilogy («Sirenades», «Aerials» and «Terrestrial», 2014, 2016 and 2018, Hoob), where she composed new music about our planet and the elements and augmented her band with a big band, string quartet and a symphony orchestra, and later expanded her quintet into a tentet («The Clouds», Hoob, 2020). «Anniverse» returns to the core band format and offers eleven songs, eight of them are originals, one is an iconic standard, another one is Schumann's lieder and the third is a song of Earth, Wind and Fire, all inspired by the months of the year, and all written by the members of the band in close collaboration."
—————————–
About "The night and the music" 2021:
Orkesterjournalen/JAZZ: "Lina Nyberg för melodierna framåt. Hennes klara, vackra stämma och fina textning skapar en romantisk känsla utan all sentimentalitet. Linas specifika känsla för orden formas smidigt till modernistisk poesi. Medan Daniel Karlsson förefaller reflektera över såväl melodier som textinnehåll. Till detta anger han spröda klanger och enskilda toner. Rytmiskt och
artikulerat mot sången. Finfördelat och väl anpassat till gemensamhetens bästa."
Salt-peanuts.eu: "Jeg har spilt denne platen en rekke ganger siden jeg mottok den, og ved hver gjennomspilling synes jeg at jeg oppdager nye detaljer, både i Nybergs lille vibrato i stemmen og, særlig i Karlssons perfekte pianospill. Og ved å lytte gjennom de 11 låtene gang på gang bare vokser og vokser den, og er allerede blitt erklært som noe av de beste de to har gjort på plate noen gang."
About/Om Lina Nyberg "The Clouds" 2020
All about Jazz: "…with The Clouds, a project featuring a tentet of first-rank colleagues, Nyberg is poised to reinforce her place at the vanguard of chance-taking European jazz musicians. …Both innovative and highly engaging, The Clouds is one of Nyberg's best recordings yet."
Jazzspecial Denmark:
"Bandet sprudler i pling-plong, småt deliristisk scat-improvisation, eksplosive tutti-udbrud og dissonanser, acceleration, kakafoni, storm & stille – og Nybergs håbefulde lyrik… Så længe Lina Nyberg søger nye vinkler for indsyn og utsyn, bliver der musik ud af det, som vi hjertens gerne venter på."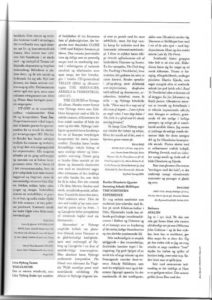 Tidningen LIRA:  "The clouds är en välregisserad föreställning där de medverkande blåser liv i varje ögonblick." (LIRA GILLAR)
Dagens Nyheter: "Det är komposition, arrangemang, instrumentering, kors och tvärs mellan jazzen där hon i grund och botten hör hemma, och nära nog klassiska orkesterverk…Allt sitter ändå ihop – à la Nyberg." 4/5
iMusiken: "The Clouds är inget annat än ett genommusikaliskt underverk i sin genre – ett överraskande flöde av originalitet, energi och virtuositet."
Eyal Hareuveni, Salt-Peanuts.eu: "You can trust Nyberg to enrich your perspective of these dire times with her wisdom, compassion and powerful emotional honesty."
Jan Granlie, Salt-Peanuts.eu: "Dette er blitt et helstøpt og ytterst godt gjennomført «verk» fra Lina Nyberg. Det er komplekst i enkelte partier, men hele veien løser det opp, det swinger, og når vi har blitt «tatt» av det swingende, tar de oss videre inn i sin egen musikalske verden, og det blir vanskelig å slippe tak. Deilig, kreativt og nydelig!"
Hymn.se: "The Clouds är ett riktigt starkt album" 8/10
Värmlands Folkblad: "Utsökt framåtrörelse i varje komposition"
Orkesterjournalen: "I de flesta låtarna finns en uppsjö av detaljer. Jazzen intervenerar stundtals med konstmusiken men det finns också låtar som bryter mönstret… På The Circle Song hör vi dessutom ett uttryck som närmar sig den andliga jazzen med släpigt gungande komp – Josef Kallerdahl och Peter Danemo är magnifika – dekorerat med sparsmakade men inte desto mindre avancerade detaljer i arrangemanget. The Clouds är tveklöst ett välkomponerat och välspelat album. Det är musik att växa i."
About/Om Terrestrial 2017:
"Going from dramatic and cloudy to bright, Nyberg and her band seemed like extensions of one another, despite the music's unpredictable idiosyncrasies." DownBeat Magazine 2017
"This work has a lot to offer, it is so rich in all it's many parameters that it needs multiple listenings to grasp on the whole. In the end, we are entirely content"/"A obra tem tanto para oferecer, é tão rica nos seus múltiplos parâmetros, que necessitamos de várias escutas para a apreender por inteiro. No fim, ficamos com as medidas cheias." Jazz.pt PORTUGAL
"Lina Nyberg, who has long been among the best jazz singers in Sweden, is not only a skilled interpreter but also a talented composer. She has written many wonderful songs with strong melodies for her latest albums where she has very well succeeded to show her own strengths: great flexibility with storytelling, excellent voice technique and her wide range."/"Ruotsalaisten jazzlaulajattarien kärkikaartiin jo pitkään kuulunut Lina Nyberg on paitsi taitava tulkitsija myös etevä säveltäjä. Viime vuosina tekemilleen levyilleen hän on kirjoittanut monia mainioita selkeämelodisia kappaleita, joiden ilmeikkäissä toteutuksissa hän on taitavasti pystynyt hyödyntämään omia vahvuuksiaan: hyvää muuntautumiskykyä tekstisältöihin, erinomaista laulutekniikkaa ja laajaa äänialaa." Jazzrytmit FINLAND
" With her arresting delivery, moving, poetic songs and exquisite orchestral arrangements tempts us to listen very carefully. Then, letting our joy guide us to act better, more humanly, even adopt an inclusive feminist approach." SALT-PEANUTS.EU
"-Swedish singer completes a trilogy of double album series-
She has set an overall theme: "all living things on the earth".
On the first CD; as the title shows, the compositions were inspired from nature. It should be noted that Nyberg is writing for Symphony Orchestra for the first time. And so far she has really showed her talent in composing.
The remarkable accomplishments can be seen in these tunes especially, such as the dramatic "Milky Way", musically tasteful "Gravity", and the instrumental pieces Terrestrial I & II.
The second CD is played in her band only, and the guitarist is a key man. She had succeeded to, in very creative way, arrange the Brazilian songs "Undiu" and "Canto de Ossanha"."
Hiroki Sugita, Jazz Japan Magazine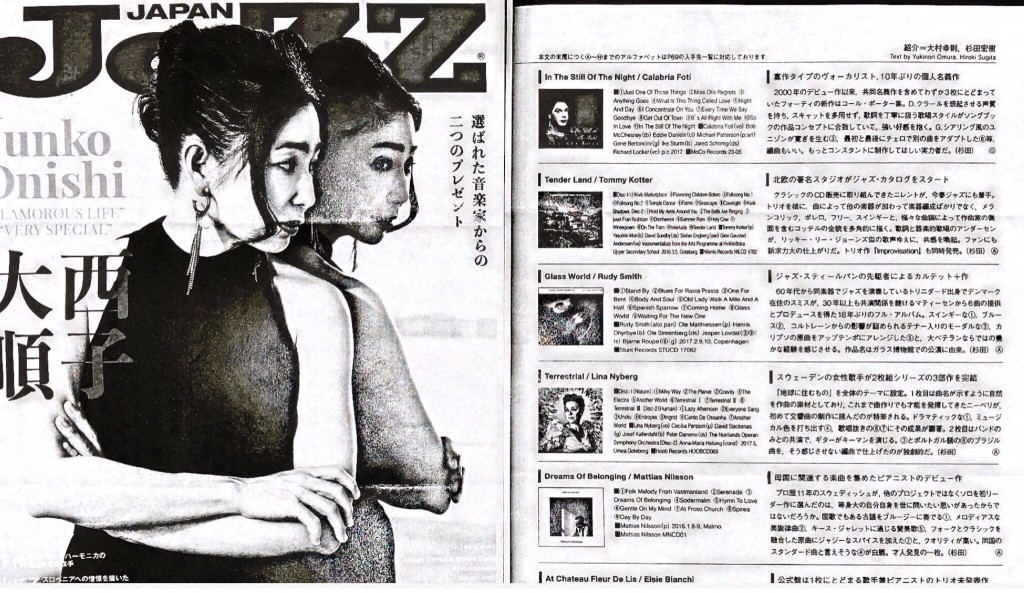 "… en storslagen, lyxig och inte minst annorlunda satsning och musiken levande och ofta mycket vacker…full respekt för originaliteten och djärvheten i den här kraftsamlingen till album." Sydsvenskan
"Värdig, viktig och vacker avslutande del av en mäktig trilogi… Dramatik, oförutsägbarhet, som naturen själv. Det är vackert, det är storslaget och känslosamt." GAFFA
"Hennes konstnärliga självständighet talar för sig själv och visar inga tecken på att ha kulminerat ännu. Men den trilogi av dubbelalbum som i dagarna kröns med nya "Terrestial" tar ändå priset." Dagens Nyheter
"Men i övrigt är det Nybergs kompositoriska kunskaper som firar triumfer. Och hennes röst – övertygande, lättsamt tilltalande, med viss tyngd och med förmågan att få de enskilda orden helt hörbara. Det finns också en vårlik glädje i Nybergs röst som tilltalat mig ända sedan hon först hördes med Fredrik Norén Band." Orkesterjournalen
"Samspelt och jordnära jazz med Lina Nyberg. Att skriva sånger om elementen skulle kunna bli högtravande, men Lina Nyberg tar ner allt på jorden med mild ironi och ett föränderligt vokalt uttryck. Efter många år på den svenska jazzscenen är hon självskriven på Stockholms jazzfestival." Svenska Dagbladet

Aerials CD reviews (more reviews in english below):
Jazz i Norge: "Luftig hvilende, rastløst uforutsigbar og stupende leken. Aerials er en perlepåminnelse om hvor bra Lina Nyberg er."
jazznyt.dk: "Aerials er et undersøgende og fantasifuldt album, der i vidtfavnende og frit fabulerende toner sender os ud at flyve som fugle, rumskibe og flyvemaskiner. Det er et modigt og kunstnerisk stærkt album fra en sangerinde uden lige i Norden netop nu."
Tidningen LIRA: "Jazzkompositioner för stråkkvartett. Så låter det faktiskt – som jazz. Men så låter det inte – som tonsatt. Toner är ju en sak; musik något annat. Caroline Karpinska, violin, Maria Bergström, violin, Elina Nygren, viola, och Gerda Holmquist, cello, låter tonsättningarna passera genom kropp och själ innan de kommer ut igen via instrumenten.
Toner möter sång, som möter toner. Nybergs röst strävar inåt jazzen och blir mer av jazzsång än tillsammans med jazzmusikerna."
Down Beat magazine: 5/5 "The Swedish vocalists writing is stunning, especially for strings, and her singing is more personal than ever."
GAFFA 6/6 "Ett album som är lika lättlyssnat som svårt och lika nödvändigt som syre."
Dagens Nyheter 5/5 " I låt efter låt närmast sveper hon med sig såväl rösten som lyssnaren, in i de äventyr som hon och bandet också förmår skapa en känsla av att de drabbar oss tillsammans."
Kristianstadbladet 5/5 "Lina Nyberg framträder här åter som makalös röstkonstnär och som mästerlig, personlig komponist och arrangör."
Och från Jazz.pt i Portugal 4/5 "…en av de mest fascinerande kvinnliga jazzvokalisterna just nu."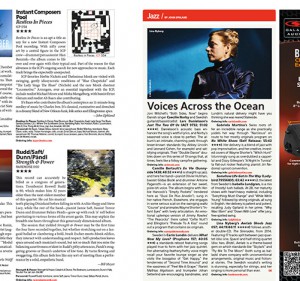 About Aerials in english:
Jazz i Norge: "Airy tranquil, restlessly unpredictable and playful. "Aerials" is a gem and a reminder of how good Lina Nyberg is. "
jazznyt.dk: "Aerials is an investigative and imaginative album, and with comprehensive, imaginative and inventive notes it sends us out to fly like birds, spaceships and airplanes. It is a bold and artistically strong album from a singer without equal in Scandinavia right now."
Down Beat Magazine: 5/5 "The Swedish vocalists writing is stunning, especially for strings, and her singing is more personal than ever."

Jazz.pt i Portugal "…one of the most fascinating female jazz vocalists right now."
All About Jazz: "Nyberg delivers these timeless standards with amused-playful elegance, commanding ideas of a clever storyteller but also a reserved sentimentality, leaving a lot of room for improvisations by her quintet musicians… Masterful, imaginative and inspiring."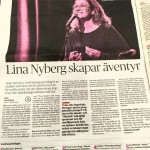 Om 25-års jubileet på Fasching i december 2015 skrev Svenska Dagbladet:
"Med hjälp av stråkkvartetten Vindla (Caroline Karpinska, Maria Bergström, Elina Nygren, Gerda Holmquist) ges sången en kammarjazzig form med ett konstmusikaliskt anslag. Det är väldigt fint i sin tyngdlösa atonalitet"
http://www.svd.se/finstamt-firande-i-lina-nybergs-jazzvarld
★★★★ 1/2 – DownBeat Magazine June 2014
"Nyberg's 16th release could double as a jazz opera.
Over two CDs, the Swedish singer's quixotic force is released as she
takes on "sirens" tempered by a "serenading" impulse.
With more than ample help from her band —guitarist David Stackenäs,
Cecilia Persson on piano, bassist Josef Kallerdahl and Peter Danemo
on drums, along with the Norrbotten Big Band— Nyberg's imaginative stories create
mysteries around the narrative schemes. Among the pieces
here are the in-your-face rollicking swinger "The Monster Song"
(both big band and quartet versions), James Shelton's textured,
mysterious, elegiac "Lilac Wine," the avant-chamberesque "Who Can
Measure," the intimate jazz-scat vehicle "The Skin" and a quiet,
revealing version of Caetano Veloso's "London London."
(Nyberg graciously tells us: "The experience is in the ears of the
listener.") Nyberg's incredible command of the lyrics and music,
and compelling musical vision make this ambitious storytelling project riveting."
Live reviews:
From the show at Nefertiti in Gothenburg April 25th:
"…Lina Nyberg har, liksom jag skrivit förr, flera sångerskor i samma kropp och använder sin stämma som ett multiinstrument… Lina Nyberg med bands lägstanivå är högre än vad många av hennes kollegor någonsin kommer upp till."
http://www.gp.se/kulturnoje/recensioner/konsert/konsert4fyrar/1.2353143-lina-nyberg-nefertiti-fredag
From the show at Victoriateatern in Malmö April 24th:
"Sällan hör man modern, kompromisslös, jazzbaserad musik som är lika envist underhållande som Lina Nybergs."
http://www.sydsvenskan.se/kultur–nojen/aven-koksvasken-aker-med/
Reviews of The Sirenades:
Lina Nyberg, The Sirenades, Hoob, Betyg: 4
"I september bytte P2 kanalsignatur. Den nya är komponerad och framförd av Lina Nyberg och är typisk för hennes otypiska musikalitet; en doft av ett alternativt musikuniversum där det inte finns några gränser mellan jazz, konstmusik, brasilianskt och klassisk musik. Lina Nybergs nya album "Sirenades" är ett häpnadsväckande rikt dubbelalbum med fler utflykter och stickspår än andra artister vågar sig på under en hel karriär. Under lyssnandet antecknar jag referenser till allt från Laura Mvula, Stephen Sondheim, Paul Simon, George Gershwin och Kate Bush till jazzmusikern och "House of cards"-kompositören Jeff Beals. Precis som intromusiken till den tv-serien känns musiken på Lina Nybergs dubbelalbum vacker, hotfull, fantasieggande."
Side2.no: 5/6 "Det beste fra søsterfolket… Hun har skapt særdeles original og spennende musikk med røtter mange steder. Hun kaller det et allkunstverk der både stemme, musikk, tekster og arrangement veves sammen og skaper et eget og nytt univers for oss lyttere. Det har hun lykkes med på alle slags vis sammen med sin kjernekvartett med trommeslageren Peter Danemo, bassisten Josef Kallerdahl, pianisten Cecilia Persson og gitaristen David Stackenäs. I tillegg spiller Norbotten Big Band ei viktig rolle på store deler av dette verket som er innspilt delvis i Luleå, med storbandet, og i Stockholm i løpet av høsten i fjor… Lina Nyberg har en styrke og originalitet i uttrykket sitt som mildt sagt er fascinerende. Hun får fram budskapet på et troverdig vis og de fire i bandet hennes kler henne perfekt"

http://m.side2.no/musikk/musikkanmeldelser/det-beste-fra-ssterfolket/5170225.html
Jazznyt (DK):
"Lina Nyberg har et modent og modigt udtryk. Hendes sangmæssige klang og bredde er stor og hun bruger det uhæmmet. Det er derfor at The Sirenades er et af den slags album der kan holde længe."
Tidningen Kulturen:
"…den mest vågade storbandsmusik som hörts på många år."
Sveriges Radio P1 Kulturnytt:
"Sirenen Lina Nyberg tänjer på stavelserna, sjunger på lek emot sina egna ord. Musikerna tumlar som delfiner. Ord och harmonik upplöses, hittar nya vägar framåt. Det är verkligen fritt, nyfiket, krävande och belönande. Men som hon själv sjunger med lån från Wirginia Wolf – hur skall man mäta detta? Är det ens jazz? Det är bara att erkänna sig besegrad av denna ystra lekfullhet hos Sirener och Monster som sjunger för varandra och för oss mer jordbundna. "
Smålandsposten (4/5):
"Norrbotten Big Band har ju en väletablerad tradition att samarbeta med landets främsta kompositörer och musiker, och sviten Sirens som Lina Nyberg skrivit för bandet är ett särdeles spännande verk, som klingar av Gil Evans, Leonard Bernstein och Carla Bley men med en helt egen och omisskännlig nybergsk touche. Och all den potential som finns i spänningen mellan storbandets kraft- och klangfulla blås och Nybergs eget band utnyttjas till max. "
Dagens Nyheter (4/5):
"Att höra Nybergs "Sirenades" är inte bara att konfronteras med en röst. Det är att kliva in i hela den värld som är Nybergs estetiska domän… I de flesta av låtarna finns en äventyrlighet och en humor som inte bara bygger på improvisationsmomentet utan också på improvisation och arrangemang."
Svenska Dagbladet (5/6):
"Den prisade Lina Nyberg skivdebuterade 1993, i duo med pianisten Esbjörn Svensson. Sedan dess har hon trätt fram i ett flertal musikaliska skepnader, alltifrån lyrisk jazzsångerska till rättframt utagerande music hall-artist. Utan att någonsin förlora sin inre kärna."
Göteborgsposten (3/5):
"Nybergs musik spänner över ett brett fält, ibland ligger den nära konstmusik, för att förflytta sig till något slags frisinnad nyjazz med blinkningar till såväl symfonirock som minimalister som Steve Reich.
Det är djärvt böljande kompositioner, rika i arrangemang och med mycket effekter. Skulle tro att det fina storbandet haft kul med sin nya utmaning."
in english:
Jazznyt (DK):
"Lina Nybergs expression is modern and courageous. Her vocal sound and width is large and she´s using it without inhibition. That´s why "The Sirenades" is an album that will last long."
SIDE2.no (NO):
"The best from our `Sister-country´" "The vocalist, composer, lyricist and band leader Lina Nyberg shows us once more that we have to do with world class."
Swedish Radio P1 Kulturnytt:
"The siren Lina Nyberg stretches the syllables, sings playfully and contradicts her own words. The musicians tumbles like dolphins. Words and harmony dissolves, find new ways ahead. It´s really free, curious, demanding and rewarding. … You have to admit defeat by this frisky playfulness among sirens and monsters singing to eachother and the rest of us that is more earthbound."
Smålandsposten:
"Norrbotten Big Band has a well etablished tradition to cooperate with the foremost composers and musicians of our country, and the suite Sirens that Lina Nyberg wrote for the band is a particularly exciting piece, recalling of Gil Evans, Leonard Bernstein and Carla Bley but with a wholly own and unmistakable touche of Nyberg. The whole potential in the tension in between the powerful and sonorous big band and Nyberg´s own band is fully utilized."
Vancouver Sun about the concert at Vancouver Jazz festival in June 2013:

"Swedish singer Lina Nyberg and her backing trio performed a quirky, nuanced set full of inventive originals and imaginative covers, her approach sometimes tuneful, sometimes experimental."
Democrat & Chronicle about the concert at Rochester Jazz festival in June 2013:
"Throughout the show, this innovative, creative Swedish singer seemed to be channeling internal conversations with herself… Nyberg was an instrument herself, vocalizing and scat-singing and muttering like excited rabbits whispering to each other in their warren. At times, she sounded more like an indie rocker than a jazz chanteuse."
All about jazz: April Jazz Festival in Espoo Finland in April 2010
"… one should expect innovation and experimentation from her, and this she supplied in quantity with an evening of her own quirky compositions and banter. Her polished, witty style is matched by her well balanced quartet featuring the male powerhouse of Josef Kellerdahl and Peter Danemo on bass and drums, and the equally quirky, delicate piano work of Cecilia Persson. Nyberg's writing style is something of a cross between glee club and post punk songstress, described elsewhere as "avant cabaret jazz."…
ANTHONY SHAW, ALL ABOUT JAZZ
Jazztimes about CD "Time":

"Here is a vocalist of impeccable style and control. Lina Nyberg is one of a new breed of singer who makes each tune her own. …Nyberg continues to explore new musical horizons. Utilizing various rhythmic patterns with a keen sense of writing, Nyberg is one of the few vocalists out there wiling to not only take chances with the voice but also with the pen." http://www.jazzreview.com/cd-reviews/jazz-vocals-cd-reviews/time-by-lina-nyberg.html by Randy Mcelligott, Jazztimes

Orkesterjournalen about "The Show"
"Nyberg has an enormous presence on stage. The voice is deep, totally convincing and honest… it seems like Nyberg never stops. She returns in new shapes and shows an absolutely self-willed creativity."
LARS GRIP, OJ
JAZZTIMES Berlin Jazzfest, Germany 2008:
"Another Swede, the intriguing and unabashedly eclectic Lina Nyberg… She was dressed to impress, sartorially and musically. Fortified by an artful band, Nyberg cooks up new flavors in the vein of jazz-inspired art pop, a fresh sound very much worth seeking out."
JOE WOODARD, JAZZTIMES
ALL ABOUT JAZZ About the cd "The Show":
"Nyberg has a warm and evocative voice and her wise and bold presentation and playful phrasing are enticing within the song interpretations. Her musicians—pianist Cecilia Persson, who frames this show with three original compositions, bassist Josef Kallerdahl and drummer Peter Danemo, are perfect companions for this theatrical journey."
EYAL HAREUVENI, ALL ABOUT JAZZ