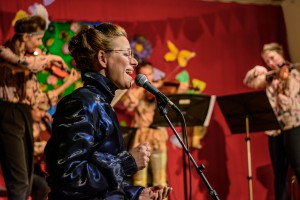 Aerials CD reviews (more reviews in english below):
Jazz i Norge: "Luftig hvilende, rastløst uforutsigbar og stupende leken. Aerials er en perlepåminnelse om hvor bra Lina Nyberg er."
jazznyt.dk: "Aerials er et undersøgende og fantasifuldt album, der i vidtfavnende og frit fabulerende toner sender os ud at flyve som fugle, rumskibe og flyvemaskiner. Det er et modigt og kunstnerisk stærkt album fra en sangerinde uden lige i Norden netop nu."
Tidningen LIRA: "Jazzkompositioner för stråkkvartett. Så låter det faktiskt – som jazz. Men så låter det inte – som tonsatt. Toner är ju en sak; musik något annat. Caroline Karpinska, violin, Maria Bergström, violin, Elina Nygren, viola, och Gerda Holmquist, cello, låter tonsättningarna passera genom kropp och själ innan de kommer ut igen via instrumenten.
Toner möter sång, som möter toner. Nybergs röst strävar inåt jazzen och blir mer av jazzsång än tillsammans med jazzmusikerna."
Down Beat magazine: 5/5 "The Swedish vocalists writing is stunning, especially for strings, and her singing is more personal than ever."
GAFFA 6/6 "Ett album som är lika lättlyssnat som svårt och lika nödvändigt som syre."
Dagens Nyheter 5/5 " I låt efter låt närmast sveper hon med sig såväl rösten som lyssnaren, in i de äventyr som hon och bandet också förmår skapa en känsla av att de drabbar oss tillsammans."
Kristianstadbladet 5/5 "Lina Nyberg framträder här åter som makalös röstkonstnär och som mästerlig, personlig komponist och arrangör."
Och från Jazz.pt i Portugal 4/5 "…en av de mest fascinerande kvinnliga jazzvokalisterna just nu."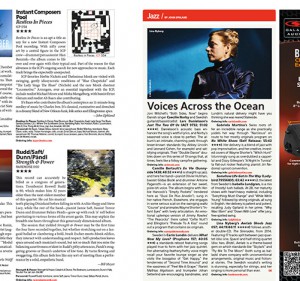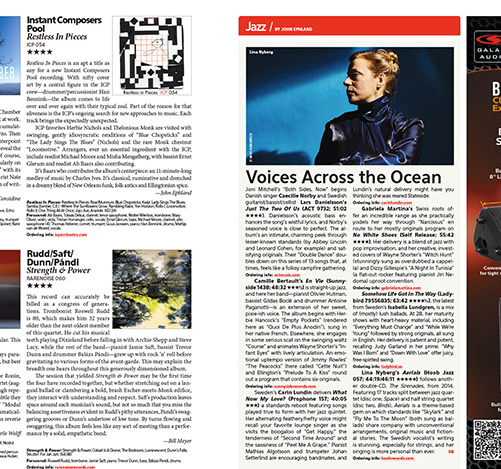 About Aerials in english:
Jazz i Norge: "Airy tranquil, restlessly unpredictable and playful. "Aerials" is a gem and a reminder of how good Lina Nyberg is. "
jazznyt.dk: "Aerials is an investigative and imaginative album, and with comprehensive, imaginative and inventive notes it sends us out to fly like birds, spaceships and airplanes. It is a bold and artistically strong album from a singer without equal in Scandinavia right now."
Down Beat Magazine: 5/5 "The Swedish vocalists writing is stunning, especially for strings, and her singing is more personal than ever."

Jazz.pt i Portugal "…one of the most fascinating female jazz vocalists right now."
All About Jazz: "Nyberg delivers these timeless standards with amused-playful elegance, commanding ideas of a clever storyteller but also a reserved sentimentality, leaving a lot of room for improvisations by her quintet musicians… Masterful, imaginative and inspiring."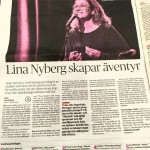 Om 25-års jubileet på Fasching i december 2015 skrev Svenska Dagbladet:
"Med hjälp av stråkkvartetten Vindla (Caroline Karpinska, Maria Bergström, Elina Nygren, Gerda Holmquist) ges sången en kammarjazzig form med ett konstmusikaliskt anslag. Det är väldigt fint i sin tyngdlösa atonalitet"
http://www.svd.se/finstamt-firande-i-lina-nybergs-jazzvarld
★★★★ 1/2 – DownBeat Magazine June 2014
"Nyberg's 16th release could double as a jazz opera.
Over two CDs, the Swedish singer's quixotic force is released as she
takes on "sirens" tempered by a "serenading" impulse.
With more than ample help from her band —guitarist David Stackenäs,
Cecilia Persson on piano, bassist Josef Kallerdahl and Peter Danemo
on drums, along with the Norrbotten Big Band— Nyberg's imaginative stories create
mysteries around the narrative schemes. Among the pieces
here are the in-your-face rollicking swinger "The Monster Song"
(both big band and quartet versions), James Shelton's textured,
mysterious, elegiac "Lilac Wine," the avant-chamberesque "Who Can
Measure," the intimate jazz-scat vehicle "The Skin" and a quiet,
revealing version of Caetano Veloso's "London London."
(Nyberg graciously tells us: "The experience is in the ears of the
listener.") Nyberg's incredible command of the lyrics and music,
and compelling musical vision make this ambitious storytelling project riveting."
Live reviews:
From the show at Nefertiti in Gothenburg April 25th:
"…Lina Nyberg har, liksom jag skrivit förr, flera sångerskor i samma kropp och använder sin stämma som ett multiinstrument… Lina Nyberg med bands lägstanivå är högre än vad många av hennes kollegor någonsin kommer upp till."
http://www.gp.se/kulturnoje/recensioner/konsert/konsert4fyrar/1.2353143-lina-nyberg-nefertiti-fredag
From the show at Victoriateatern in Malmö April 24th:
"Sällan hör man modern, kompromisslös, jazzbaserad musik som är lika envist underhållande som Lina Nybergs."
http://www.sydsvenskan.se/kultur–nojen/aven-koksvasken-aker-med/
Reviews of The Sirenades:
Lina Nyberg, The Sirenades, Hoob, Betyg: 4
"I september bytte P2 kanalsignatur. Den nya är komponerad och framförd av Lina Nyberg och är typisk för hennes otypiska musikalitet; en doft av ett alternativt musikuniversum där det inte finns några gränser mellan jazz, konstmusik, brasilianskt och klassisk musik. Lina Nybergs nya album "Sirenades" är ett häpnadsväckande rikt dubbelalbum med fler utflykter och stickspår än andra artister vågar sig på under en hel karriär. Under lyssnandet antecknar jag referenser till allt från Laura Mvula, Stephen Sondheim, Paul Simon, George Gershwin och Kate Bush till jazzmusikern och "House of cards"-kompositören Jeff Beals. Precis som intromusiken till den tv-serien känns musiken på Lina Nybergs dubbelalbum vacker, hotfull, fantasieggande."
Side2.no: 5/6 "Det beste fra søsterfolket… Hun har skapt særdeles original og spennende musikk med røtter mange steder. Hun kaller det et allkunstverk der både stemme, musikk, tekster og arrangement veves sammen og skaper et eget og nytt univers for oss lyttere. Det har hun lykkes med på alle slags vis sammen med sin kjernekvartett med trommeslageren Peter Danemo, bassisten Josef Kallerdahl, pianisten Cecilia Persson og gitaristen David Stackenäs. I tillegg spiller Norbotten Big Band ei viktig rolle på store deler av dette verket som er innspilt delvis i Luleå, med storbandet, og i Stockholm i løpet av høsten i fjor… Lina Nyberg har en styrke og originalitet i uttrykket sitt som mildt sagt er fascinerende. Hun får fram budskapet på et troverdig vis og de fire i bandet hennes kler henne perfekt"

http://m.side2.no/musikk/musikkanmeldelser/det-beste-fra-ssterfolket/5170225.html
Jazznyt (DK):
"Lina Nyberg har et modent og modigt udtryk. Hendes sangmæssige klang og bredde er stor og hun bruger det uhæmmet. Det er derfor at The Sirenades er et af den slags album der kan holde længe."
Tidningen Kulturen:
"…den mest vågade storbandsmusik som hörts på många år."
Sveriges Radio P1 Kulturnytt:
"Sirenen Lina Nyberg tänjer på stavelserna, sjunger på lek emot sina egna ord. Musikerna tumlar som delfiner. Ord och harmonik upplöses, hittar nya vägar framåt. Det är verkligen fritt, nyfiket, krävande och belönande. Men som hon själv sjunger med lån från Wirginia Wolf – hur skall man mäta detta? Är det ens jazz? Det är bara att erkänna sig besegrad av denna ystra lekfullhet hos Sirener och Monster som sjunger för varandra och för oss mer jordbundna. "
Smålandsposten (4/5):
"Norrbotten Big Band har ju en väletablerad tradition att samarbeta med landets främsta kompositörer och musiker, och sviten Sirens som Lina Nyberg skrivit för bandet är ett särdeles spännande verk, som klingar av Gil Evans, Leonard Bernstein och Carla Bley men med en helt egen och omisskännlig nybergsk touche. Och all den potential som finns i spänningen mellan storbandets kraft- och klangfulla blås och Nybergs eget band utnyttjas till max. "
Dagens Nyheter (4/5):
"Att höra Nybergs "Sirenades" är inte bara att konfronteras med en röst. Det är att kliva in i hela den värld som är Nybergs estetiska domän… I de flesta av låtarna finns en äventyrlighet och en humor som inte bara bygger på improvisationsmomentet utan också på improvisation och arrangemang."
Svenska Dagbladet (5/6):
"Den prisade Lina Nyberg skivdebuterade 1993, i duo med pianisten Esbjörn Svensson. Sedan dess har hon trätt fram i ett flertal musikaliska skepnader, alltifrån lyrisk jazzsångerska till rättframt utagerande music hall-artist. Utan att någonsin förlora sin inre kärna."
Göteborgsposten (3/5):
"Nybergs musik spänner över ett brett fält, ibland ligger den nära konstmusik, för att förflytta sig till något slags frisinnad nyjazz med blinkningar till såväl symfonirock som minimalister som Steve Reich.
Det är djärvt böljande kompositioner, rika i arrangemang och med mycket effekter. Skulle tro att det fina storbandet haft kul med sin nya utmaning."
in english:
Jazznyt (DK):
"Lina Nybergs expression is modern and courageous. Her vocal sound and width is large and she´s using it without inhibition. That´s why "The Sirenades" is an album that will last long."
SIDE2.no (NO):
"The best from our `Sister-country´" "The vocalist, composer, lyricist and band leader Lina Nyberg shows us once more that we have to do with world class."
Swedish Radio P1 Kulturnytt:
"The siren Lina Nyberg stretches the syllables, sings playfully and contradicts her own words. The musicians tumbles like dolphins. Words and harmony dissolves, find new ways ahead. It´s really free, curious, demanding and rewarding. … You have to admit defeat by this frisky playfulness among sirens and monsters singing to eachother and the rest of us that is more earthbound."
Smålandsposten:
"Norrbotten Big Band has a well etablished tradition to cooperate with the foremost composers and musicians of our country, and the suite Sirens that Lina Nyberg wrote for the band is a particularly exciting piece, recalling of Gil Evans, Leonard Bernstein and Carla Bley but with a wholly own and unmistakable touche of Nyberg. The whole potential in the tension in between the powerful and sonorous big band and Nyberg´s own band is fully utilized."
Vancouver Sun about the concert at Vancouver Jazz festival in June 2013:

"Swedish singer Lina Nyberg and her backing trio performed a quirky, nuanced set full of inventive originals and imaginative covers, her approach sometimes tuneful, sometimes experimental."
Democrat & Chronicle about the concert at Rochester Jazz festival in June 2013:
"Throughout the show, this innovative, creative Swedish singer seemed to be channeling internal conversations with herself… Nyberg was an instrument herself, vocalizing and scat-singing and muttering like excited rabbits whispering to each other in their warren. At times, she sounded more like an indie rocker than a jazz chanteuse."
All about jazz: April Jazz Festival in Espoo Finland in April 2010
"… one should expect innovation and experimentation from her, and this she supplied in quantity with an evening of her own quirky compositions and banter. Her polished, witty style is matched by her well balanced quartet featuring the male powerhouse of Josef Kellerdahl and Peter Danemo on bass and drums, and the equally quirky, delicate piano work of Cecilia Persson. Nyberg's writing style is something of a cross between glee club and post punk songstress, described elsewhere as "avant cabaret jazz."…
ANTHONY SHAW, ALL ABOUT JAZZ
Jazztimes about CD "Time":

"Here is a vocalist of impeccable style and control. Lina Nyberg is one of a new breed of singer who makes each tune her own. …Nyberg continues to explore new musical horizons. Utilizing various rhythmic patterns with a keen sense of writing, Nyberg is one of the few vocalists out there wiling to not only take chances with the voice but also with the pen." http://www.jazzreview.com/cd-reviews/jazz-vocals-cd-reviews/time-by-lina-nyberg.html by Randy Mcelligott, Jazztimes

Orkesterjournalen about "The Show"
"Nyberg has an enormous presence on stage. The voice is deep, totally convincing and honest… it seems like Nyberg never stops. She returns in new shapes and shows an absolutely self-willed creativity."
LARS GRIP, OJ
JAZZTIMES Berlin Jazzfest, Germany 2008:
"Another Swede, the intriguing and unabashedly eclectic Lina Nyberg… She was dressed to impress, sartorially and musically. Fortified by an artful band, Nyberg cooks up new flavors in the vein of jazz-inspired art pop, a fresh sound very much worth seeking out."
JOE WOODARD, JAZZTIMES
ALL ABOUT JAZZ About the cd "The Show":
"Nyberg has a warm and evocative voice and her wise and bold presentation and playful phrasing are enticing within the song interpretations. Her musicians—pianist Cecilia Persson, who frames this show with three original compositions, bassist Josef Kallerdahl and drummer Peter Danemo, are perfect companions for this theatrical journey."
EYAL HAREUVENI, ALL ABOUT JAZZ